Buying a Puppy
So you thought about it over dinner last night or it's a few days before Christmas, and you think, "Let's get a puppy!" — Not Exactly. Take a step back and think through the implications of expanding your family with a four-legged creature who sheds.
Hey, if you've "been there-done that", that might qualify you to jump in head first again, but contemplate these suggestions in deciding if the time is right to add a Golden Retriever (or any animal for that matter) to your home.
A dog is for life, not just for Christmas.
For example, here is my Rachel celebrating her 14th Birthday last May!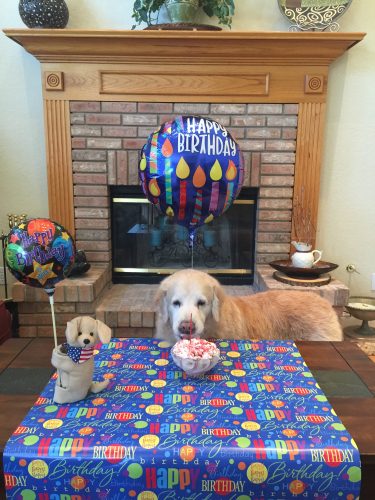 Rearing a puppy and living with them throughout their lifetime is a significant commitment. It's not because "they'll be so cute under the tree", or a surprise gift for a loved one. The joys of owning a pet can be wonderful, and good for you too! Pet owners, especially dog owners, tend to live longer, healthier lives!
Certain life circumstances you might be dealing with right now may keep you from devoting the necessary attention and care to a puppy. I encourage you to complete an application/home environment questionnaire.
Background questions such as:
1) Have you raised a puppy before?
2) Have you owned a golden retriever before?
3) Are there other dogs/pets in the home (age/breed)?
4) Do you have an in-ground pool?
Requirements/Restrictions: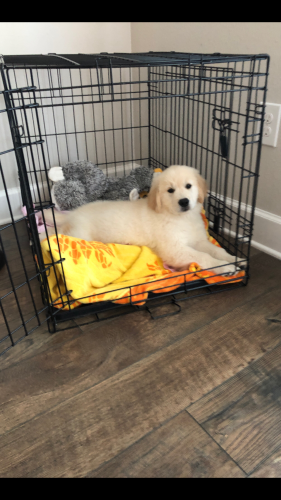 1) Crate Training. You must purchase a crate as it is the fastest, most efficient way to housebreak a Golden Retriever. Besides you don't want your furniture to be a chew toy !

2) The puppy needs to be raised indoors, and be fed/let out at midday for at least several months. Is someone home during the day or can you come home from work midday?
3) Do you have a fenced year yard? This is necessary to confine your dog when let out and keep out animals, pets or children belonging to others.
Do you require a deposit to reserve a puppy?
While I am not a business but simply a hobby breeder, one 'business' practice I observe is deposits, like other breeders.  I cannot reserve a puppy without a deposit. The deposit amount may vary in relation to my price. A deposit is a reservation for a puppy but doesn't guarantee you a puppy. Sometimes I become oversold should the stud dog owner decide to select a puppy in lieu of the stud fee or I decide to keep one or more puppies from a litter, etc.

If I cancel your reservation, your deposit will be refunded. If YOU cancel your reservation, I will refund your deposit when I have resold your reservation/puppy.
What can I expect to pay for a well bred puppy from a reputable, serious-hobby breeder?
Realize that the price you pay to buy a puppy will be a small part of total cost of ownership over the life of your dog. Also, many factors affecting breeders influence prices such as:
stud fees paid

transportation expenses if the stud dog is not local

veterinary expenses (ordinary and specialty procedures)

other costs a breeder/kennel incurs (feeding, care, facilities maintenance, seminars, shows/events, etc.)
Prices vary considerably around the U.S. reflecting these and other local issues. In Florida, you can expect to pay  $2,500.00 or more for a well-bred puppy from a quality hobby breeder.
What major health clearances should I be aware of about the sire (father) and dam (mother) of a litter?
Despite some expectations that breeding and health are cut and dried issues of exacting precision, breeding and genetics is truly a blend of art and science. Breeding should be left to a trained, experienced breeder who plans and executes matches after researching pedigrees and attributes of a sire and dam that will be most complimentary. Simply because two dogs happen to "have papers" (that is, they are are purebred dogs) is by no means the total criteria by which to judge whether dogs are good specimens of the breed and ought to be bred! Golden Retrievers are subject to genetic problems reputable breeders aim to avoid and reduce in their breeding programs.
There are four  primary health areas Golden Retriever breeders should have evaluated:
Hips
Larger breeds such as Golden Retrievers are somewhat more prone or at risk than smaller breeds of having or developing hip dysplasia (malformation of the rear hip joint and the tip of the leg bone). Hip X-rays should be evaluated by the Orthopedic Foundation for Animals (OFA). Since a Golden Retriever's hips are not finished developing until about age 2, OFA provides hip evaluation/ratings of dogs age 2 or older.
Dogs having an OFA rating below that of "Fair" should not be bred. Despite the parents of a litter having "Fair" or better ratings, it is not uncommon for puppies/dogs to occasionally have or develop hip dysplasia. That said, it is very possible for a dog having hip dysplasia to display few, if any, clinical signs of the condition over most of their life. Since most people who buy a puppy as a companion pet don't typically have the dog's hips evaluated, a dog with a mild case may very well live a long, active life with any such condition being of little or no meaningful consequence.
Eyes
Inheritable eyes diseases such as prematurely developing cataracts are a risk that should be checked for annually. Since this condition can arise at any time, a dog who is in a breeding program should be examined by an ophthalmologist veterinarian annually. Breeders should be able to show you a copy of a dog's Canine Eye Registration Foundation (CERF) form (or the vet's report of examination), within the last year, that the dog's eyes were cleared.
Heart
A breeder should be able to produce reports from vets specializing in cardiology who examined the parents of a litter and that no signs of improper heart function or conditions such as sub-aortic stenosis (SAS) were detected. Hearts do not require examination more than once for an adult dog.
Other
The puppies themselves should be examined by the breeder's vet for general health, and some locales (such as Florida) require a health certificate be provided to a puppy buyer indicating its general good health and the initial inoculations (shots) it received.
How long is the gestation period for Goldens? How long until they can go to their new homes?
The gestation period (time from conception to delivery) for Golden Retrievers is approximately 9 weeks (63 days). Once the puppies are born, puppies should not be released until 8 weeks of age in the State of Florida.

Anything else I should expect from a good breeder?
You should expect a reputable breeder to ask you some questions about your experience with Goldens, rearing a puppy, and the home environment in which the puppy will live to determine if your situation sounds right for the puppy.
Often, breeders will execute a contract or agreement of sale with you outlining the terms under which the puppy or dog is sold. You may also receive or may ask for things such as:
a pedigree of the litter

materials to help you learn to care and crate train your puppy

local dog training or obedience clubs into which to enroll your puppy
What if we want a Golden Retriever, but we're not so sure we're up for going through all the "puppy rearing" stuff?
Definitely okay to feel this way too! You may be interested to purchase an adult dog we may have available, or adopt an older dog that may be currently being foster-cared for under a Golden Rescue program. Please consider this as a viable option for providing a loving, new start for a great dog that's in need of a new home. Visit Mid-Florida Golden Retriever Rescue's website to learn more about Golden Rescue and some great dogs in need of a loving, new home.